Want to know about CorelDraw? You have landed on the right place. Here, we have done an honest CorelDraw Review based on research and experience. The professional graphic design software comes with vector illustration, layout, photo editing, and design tools. This incredible software lets you do all the stuff and enhance your creativity beyond expectations. So, let's talk about the strength and versatility of this exciting software. Also, we'll have a scout on its features, pricing, and pros & cons.
Overview CorelDRAW
The graphic design software-CorelDraw was introduced in 1989. Since then this software has changed the way people express and share ideas. CorelDraw graphic suite delivers high-quality editing and designing tools that help to work faster and smarter. The non-destructive effects for bitmap and vector objects, control over layer and pages, hundreds of templates are some of its unique features. There is more which we'll discuss below. Over millions of download has been already done, as this graphic software is innovative & productive, also super easy to use. Reviewing on CorelDraw we also found that the company allows you to download the software for free. The best of all is it's compatible with both Windows and Mac.
Reviewing CorelDraw Pros and Cons
Before analyzing the good and ugly of CorelDraw, one thing you must consider is the fact. Nothing is perfect in this world. CorelDraw has also some negative points as well as the better side. Hold on with this CorelDraw review to know the pros and cons of CD.
Pros
The very first CorelDraw pros that we like to mention are- it's easy to use. Equally the software is very simple to learn that even beginners or experts can utilize it. In fact, the handy software is affordable too. The second satisfactory thing that we found with CorelDraw is its user-friendly interface. You'll even find lots of instructional videos including easy on memory, fast reaction time from command to execution. This graphic design software virtually supports all file types which is obviously a positive sign.
Last but not least, the major spike. While designing for pages of newsletter, magazine, brochure or any other work that requires tons of pages, you can easily navigate them through CorelDraw Workspace and features. The professional vector illustration, layout, photo editing, design tools and tons of features that you receive from CorelDraw helps you create and turn your imagination into reality.
So these were some of the CorelDraw pros or good side. But as already said there are also some few cons which we must know before purchasing the product.
Cons
Personally, CorelDraw is remarkably rewarding. However, there are some complaints about slow working with books and magazines of more than 80 pages. For your wellness, we would like to suggest you, use powerful computers for detailed design because the interaction with the design software becomes slow, making your work difficult. Earlier beginners can feel a little bit chunky working on it, but once your hands are set and become familiar, it's just like a game or having fun.
CorelDraw Graphic Suite Pricing & Features
The limit-less graphic design software price and features are overwhelming. First, have an audit at CorelDraw pricing.
Pricing
The company gives you two options to get the software. Either you can completely buy the full version or can move on with the monthly subscription. If you wish to get the full version then you may charge $474.00. as it is the cost of the product. Or you may plan to pay $16.50 for the monthly subscription.  If you choose to go on with the monthly plan then it can cost you around $198.00 for 365 days.
For those who so far have purchased the CorelDraw and needs up-gradation to the latest version can upgrade at a reasonable price. The software upgrade charge is as low as $189. You can also use the CorelDraw coupon code while buying the software for an additional discount. Using the CorelDraw coupons can help you save up to $50 on the product.
Features Of CorelDRAW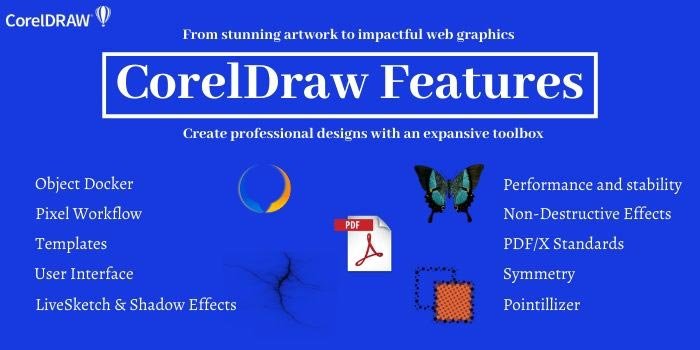 CorelDraw features are something that doubles our enthusiasm and review. With its professional and easy to use tools anyone can master in graphic design. Expressing inner thoughts to the world becomes easier once you start using it. Some of the key features and tools of CorelDraw are as follows –
Objects Docker – It allows you direct control over the structure of a document and fast access to its component. In short managing design elements, layers and pages are too simple.
Non-Destructive Effects – This tool allows you to apply, modify and experiment with bitmap effect on both vector and bitmaps without altering the source image or effects.
Templates – A wide range of free templates will be provided by the company which you can easily download for free from 'Get More" in the Welcome screen.
Pixel Workflow – To ensure all graphics for the webs are pixel-perfect there is a Pixel grid button available that makes it easy to perfect your design shapes.
This above-described were some common features of CorelDraw. Yet there are some unique time-saving tools with CorelDraw which can't be found with other graphic software. Or require a plugin for that. CoralDraw review reveals the features unique to CorelDraw.
Symmetry – With the help of this tool you can create a range of symmetrical design, from a simple object to complex kaleidoscopic (multicolor) effects in real-time.
Pointillizer – Great for creating vehicle wraps, window décor projects, and more. Using this tool you can generate high-quality vector mosaics from any number of selected vector or bitmap objects with just a few clicks.
LiveSketch – This revolutionary tool leverages Artificial Intelligence and Machine Learning to convert free form sketching into precise vector curves on a touch-enabled device.
Shadow Effects – This tool is ideal for working with cutters and potters. CorelDraw's unique Block Shadow feature adds solid vector shadows to objects and text.
Why choose CorelDraw?
There are many reasons that make you choose CorelDraw. Some can be described and some you have to explore your own. The first thing which we like the most about this product is it gives more control over design and tools. Further its best of both worlds – Windows and Mac.
CorelDraw gives an opportunity to bring out inner talents that might not be expected off. Whether you're designing signage, logos, web graphics, or print projects, you'll appreciate unmatched customization and capabilities. Besides powerful pen and touch capabilities, support for Microsoft Surface Dial, Windows color management system and more are the advantages of CorelDraw.
Here is one more kicker for you. The company offers the Corel 30-days money-back guarantee as they are confident that you'll be satisfied with your purchase. If somehow you did not like the product, Corel will refund your money within 7 business days of cancellation.
Conclusion: CorelDRAW Review
After reviewing CorelDraw, it states that this software is reliable for graphic design. Looking at its features, pricing and pros and cons we found CorelDraw to be the perfect one for exploring creativity. If you want to enhance your skill beyond limitation then you must consider this CorelDraw graphic designing software. There is one more bonus word for you in this CorelDraw review. Before purchasing the product if you use the CorelDraw coupon code then you can get up to 30% – 40% discount on the software. So do not forget to use the Corel coupons at the time of purchase or upgrade.