Coreldraw and Affinity designer both are vector graphics editor software. But you will see some differences between features and price. We will cover all aspects of this software in this Coreldraw vs Affinity Designer. So that if you will be able to choose better for you. Before starting those kinds of stuff let's take a short look at the Background of the Coreldraw and Affinity designer.
Background Of CorelDraw & Affinity Designer
Coreldraw
Coreldraw was founded in 1987 by Corel corporation. They focused on the new technology and designs and that is the reason that today Corel is famous all over the world. This one is excellent software or graphic designing, illustration, etc. A graphic designing software for all skill level users.
20% Off
20% Off CorelDRAW Graphics Suite 2021 Discount Code (For Windows)
Claim this coupon code to save money on the Graphics Suite of CorelDRAW software. Exclusive Corel deal available for Windows users only.
Claim this coupon code to save money on the Graphics Suite of CorelDRAW software. Exclusive Corel deal available for Windows users only.
Show Less
Affinity Designer
Affinity Designer is created and developed by Serif Ltd in 2014. Although the Company is not too old in the industry still they grab the market very soon with their excellent services.
To understand in a better way about the Coreldraw and Affinity we are going to see the features of this software one by one.
CorelDraw Vs Affinity Designer Feature Comparison
Both the software are used for graphic designing, illustration, etc. But the features of both software are different. let's compare the features of Affinity Designer & CorelDraw to find the best one.
Features of the Coreldraw
Coreldraw has many great features that help a graphics designer to create an awesome design. So here I am going to discuss the features of Coreldraw.
Live sketch tools
Healing clone tools
Touch-friendly GU interface
Prominent interactive slider
Corel font manager
Multi-monitor
Custom node shape
These were some features that help users to make its design great. Now move on to the next paragraph to see the features of the Affinity designed.
Features of Affinity Designer
Affinity designer is younger than the Coreldraw still it has lots of features to give best to the users. I am going to present some key features of the Affinity designer.
Creat accurate design
Over 1,000,000% zoom
Dynamic precious guides
Precise curve
Pixels and vectors in one workflow
Non-distractive operations
these features help to create the perfect design for graphic designers.
Why choose Coreldraw?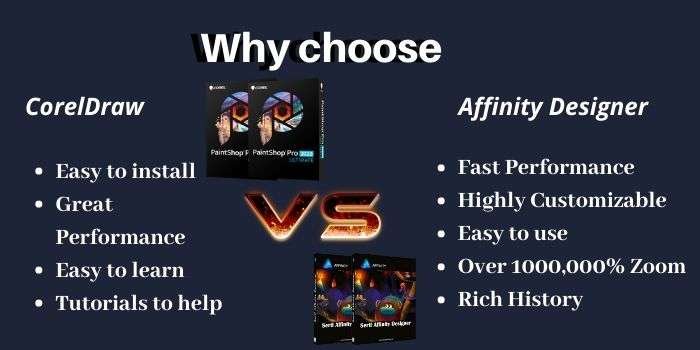 There are many reasons to choose Coreldraw. Let's see some of them.
Easy to install- it's very easy to install there is no need to do lots of other formalities.
Great performance- Coreldraw occupies a very low amount of space on the computer. So performance will not be an issue with the Coreldraw.
Easy to learn- It's easy to learn the Coreldraw in comparison to the other competitor.
Tutorial help and guide- Coreldraw offers tutorials and guides to its users so that it will be easy to understand the uses of the tools and the interface.
Why choose Affinity Designer
You will get many advantages if you will use the Affinity designer. So let's explore why to choose Affinity Designer.
Fast performance- You will get this feature always fast absolutely no matter whether you are using the low size of the artwork or the high size of the artwork.
Highly customizable- The Affinity is highly customizable. Here you can light or dark the interface. You can create your own toolbars and toolbars layout any other features are there to make it simple to you.
Easy to use- There are many shortcuts to make the Affinity design easy to use.
Over 1000,000% Zoom- Here you can easily switch between your favorite zoom level whatever you want.
Rich history- Here you can redo and undo over 8,000 times. It makes it easy to make changes in the interface.
Coreldraw and Affinity Designer both have their great Pros or the reasons that you should choose between them.
Price comparison of Coreldraw and Affinity Designer
When it comes to purchasing the software then the price is one of the most important factors among people.
Coreldraw
Windows- Corel draw offers a full version for windows at $499.00 with the 30 days money-back guarantee. Or if you want to take a subscription at $198/year.
Mac- You can take the subscription for 1 year at $198/year. Or you can purchase the full version at just $499.00.
Affinity Designer
Windows- Affinity designer offers the one time plan at just $49.99.
Mac- Similarly you will get the same price for Mac you have to only $49.99.
iPad – You can also purchase the Affinity designer for iPad at $49.99.
I hope you got the answer you were looking for. Let's take an overview of the Coreldraw vs Affinity Designer.
Conclusion: Coreldraw vs Affinity
We have explored many things in this Coreldraw vs Affinity article. Now, you know why should you choose Coreldraw or why should you choose the Affinity designer. Both are best for their services depends on you which software suits you most & your pocket allow you to purchase.