Know which one is better, CorelDraw or Photoshop? Attractive visual is one of the fundamental aspects of web design. It holds everything that meets the eye such as images, banners, slide shows, buttons, text style, color scheme, graphics, and more. It is the way to bring the attention of the users as well as to connect with them.
A good collection of visual elements and the graphic in the web pages define the rainbows of the full-fledged website. A quality web design triggers aesthetic senses and boosts a connection towards site visitors. This is something where graphic designers play an important role.
They make an effort to make happen behind this creative process. They use different graphic software such as Adobe Photoshop, Adobe Illustrator, CorelDraw, etc. for creating brilliant images. These editing software programs help web designers to design and skillfully work with images. Now, let's understand which software works best for you, CorelDraw or Photoshop.
Which one is better, CorelDraw or Photoshop?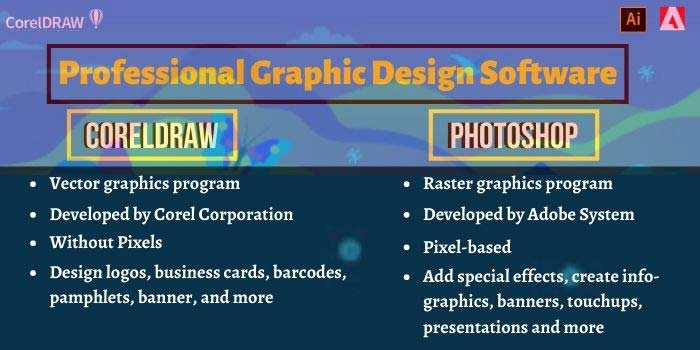 Well, this question is just like asking, 'which is better, mobile phone or laptop?' They're entirely different tools for different tasks. Both have different jobs to do, it all depends on when, what, how, and why. CorelDraw and Photoshop work similarly in certain ways, but each has a specific functionality.
Photoshop is a raster graphics editing program
Photoshop is used for making and editing raster-based images or bitmaps like JPGs, PNGs, and BMPs. This program helps you create graphics, edit photos, paint illustrations, and even digital painting for the web.
What is a raster graphic?
Raster graphics is an image that is based on pixels. A raster graphic, such as gif or jpeg, is an array of pixels of various colors, which together form an image. Enlarging a raster image, they can be analyzed, individual pixels appear as squares.
Also, Read… Clip Studio Paint Ex Vs Pro
CorelDraw is a vector graphics tool
CorelDraw is used for vector-based graphics. This application helps you build logos, graphics for print, as well as designing animated arts that use more solid colors with fewer transitions.
What is a vector graphic?
Vector graphics are computer graphics images that are defined in terms of 2D points to create images on a raster display. These are shapes and polygons with editable nodes and lossless scaling (no pixels there).
Both the applications are best on their own. To understand their places in the field of design and photography, one should put a hand in both. Just a couple of touches will help you get on track. Also, you'll get a chance to explore the thrilling professional editing software.
Still, confused "Which one is better, CorelDraw or Photoshop?" Have a look at the difference between the two and understand even better.
Difference between CorelDraw and Photoshop
Basics of CorelDraw and Photoshop
Two graphics software program is mostly known and widely used when it comes to adding visual elements to a website. That's none other than CorelDraw and Photoshop.
CorelDraw is a window-based graphics design software used for vector illustration. This software is developed by Corel Corporation, available for Windows and Mac. It is also one of the photo editing programs with robust design tools in a graphic suite called Corel's Graphic Suite, bundled with Corel Photo-Paint and other graphic-related programs.
Photoshop is image editing, photo strengthening, and graphic design software for both Windows and Mac, developed by Adobe System. This beefy application is used for raster (pixel-based) graphics. Besides, it's also used for vector graphics by many professionals and photographers alike.
Use of CorelDraw and Photoshop
If you are looking forward, creating vector images without the use of pixels, then you must consider CorelDraw which specializes in vector art. With the application, you can create and edit vector-based illustrations. Plus, designing logos, arranging print layout, and retouching photographs are possible. It is often used for creating business cards, banners, pamphlets, logos, hoardings, etc.
Adobe Photoshop, a raster program is used for almost any kind of image editing. All the creative effects are done through Photoshop. Creating high-quality graphics, infographics, touchups, presentations, or even creating banners is simple with the application. It also holds some common tools for crop, resize, and color correction on digital photographs to accurate the needs and requirements.
Comparison Chart: Which is effective, CorelDraw & Photoshop?
Conclusion: CorelDraw or Photoshop, which is better?
While both CorelDraw and Photoshop are common graphics-related programs used by designers. Photoshop is a raster graphics program, works pixel-based. Whereas CorelDraw is specialized in vector illustration without the use of pixels.
Photoshop is an excellent software for creating images, photo editing, and graphic design or adding special effects to images. CorelDraw, on the contrary, is used for creating artwork and for designing logos, business cards, barcodes, pamphlets, banners, and more.
In a nutshell, both CorelDraw and PhotoShop are for creating images but the process and idea they are based upon are very different. To understand their work in the meadow of design and photography, you need to use them both. Just the sampling won't do the trick. Now, it's time that you use both programs and decide whether CorelDraw or Photoshop is better for you or not.