As a beginner YouTuber, it is hard to get 1000 subscribers to get monetize your channel. After this achievement, you'll get access to more facilities through YouTube. You all are curious about what happen when reach 1000 YouTube subscribers which is the primary goal of YT creators. Let's check out what happens when reaching 1K YouTube subscribers? Some tricks are also there to gain your YouTube 1000 subscribers and to reach certain watch hours on your YouTube.
Things That Happen When You Get 1K subscribers On YouTube?
As compared with other platforms like YouTube vs Twitch and YouTube vs TikTok, it is quite difficult to get subscribers and earn money on YT. The first achievement for a YouTuber is to get 1000 subscribers and it brings many more opportunities to grow your channel. You'll get such following access right after this achievement: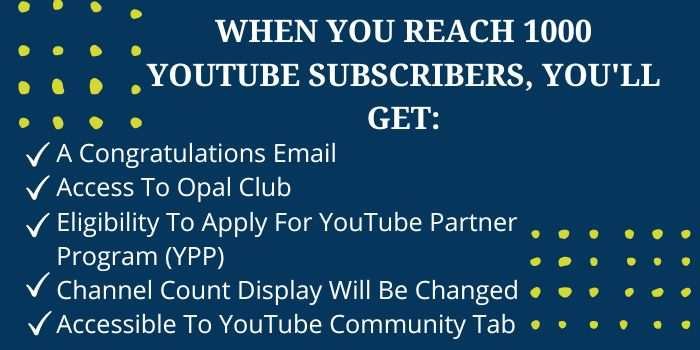 Congratulation email: YouTube Subscriber 1000
First of all, you'll receive a congratulations email when reaching 1000 subscribers on YouTube. This mail will receive after a few days you've reached YouTube subscribers 1000. In this mail, there would be an image of a GIF of Congratulations. It is because the YouTube system is ensuring in the meantime that if your channel is continuously growing or there is a drop in the numbers of subscribers.
Opal Club Access
This is an achievement for those YouTubers who have subscribers between 1000 to 9999. This will let you explore more ways to grow your YouTube channel. It is more than just a tag for your goal of 1K subscribers. In this club, you'll get to about the uses of metadata to get more views and to collaborate. You can also get interact with your viewers and get into analytics of YouTube.
Apply For YouTube Partner Program: YouTube Subscribers 1000
Just getting 1000 subscribers on YouTube is not enough to get eligible for YPP. Your YouTube channel must have 4000 hours of watch time in 12 months. If your watch time is less than 4000 hours in a year with more than 1000 subscribers on YT, then your YouTube channel will not qualify for the YouTube partner program. For this one of the best methods can try is to use VPN to increase YouTube video views. You have to keep posting videos and linking your Google AdSense account. Also after completing 1000 subscribers you will also get a YouTube community tab so that you can create posts and polls on your channel.
You'll get the facility of the creator support teams, Copyright match tools, and Monetization features in YPP.
Changes in Channel Subscriber Count Display Format
Technically it is worth nothing for your YouTube, it is just like your subscriber count display will look like 999 subscribers to 1.00k. This will increase the chances of your new viewers to subscribe to your channel as they will consider it you're providing good quality content. It just changes the perspective of your viewers which will lead to getting more subscribers.
Get Access To The YouTube Community Tab
This function will allow you to get connected with your viewers and to promote any YouTube channel without uploading any YouTube video. It included text, photos, polls, and many more to get to know what content they want. People are generally engaging with this function and help the YouTubers to post content related to their choices.
How To Get YouTube 1000 Subscribers?
We have discussed what happens when reaching 1000 subscribers on YouTube. But prior to that, it is very important to get 1k followers for your channel. Reaching 1000 subscribers on YouTube is not something easy as it takes consistency, skills, and content quality and some points to remember which are:
Add A Subscribe Button In Your Videos
It will leave an impact on the viewer's mind and somehow he may subscribe to your channel. You can download a graphic of "subscribe" and put it in your videos starting or ending as a watermark. You can set this through YouTube settings and increase your Youtube subscribers.
Observe Which Videos Attract Most Viewers
If your channel has more than a dozen of videos, then you can check out which type of video content gathers more viewers. You can simply check this through YouTube "Analytics" with the specific option of "subscribers by video". This function will show you the data that how many viewers subscribe to your YouTube Channel through a particular video.
Create These 4 Types Of Video
There are various ideas for your YouTube content and you must be an observer with a creative mindset to reach 1K YouTube subscribers. Also, your videos should be clear and edited well by using the best video editor for YouTubers. In our opinion, Filmora 11 is the best video editing software For YouTubers that provides various amazing features for the perfect video editing. There are 4 types of videos that are mostly likable by people:
Reaction Videos: It is included with every genre and in any industry like Music, Gaming, Sports, and many more with you can create reaction videos.
How-To Videos: These are the most informative videos and are generally watched by those viewers who are looking for any of their queries on any topic.
Vs videos: A comparison video over any two objects to explain which one is better. This video requires deep research over those two things.
Listicle Videos: It means videos that contain information in a list format that will make it easy to understand for viewers.
Use YouTube Keywords, Thumbnails, and Video Titles
The goal of reaching 1000 subscribers on YouTube is incomplete without this trick. YouTube keywords are the basis of any video that helps it to reach the top in search results. Keep using relevant terms in your title and description. This can possible when you use the autocomplete function on the YouTube search bar to check the popular keyword searches. YouTube thumbnails put the first impression on the viewer's mind, so they must be informative, brief, and easy to understand.
Posting Consistently
Some users' problem is that they can't post regularly on YouTube which creates an obstacle to staying connected with their users. You have to keep maintaining a regular posting routinely on YouTube. This will lead to an increase in your engagement with your subscribed and new viewers which will ultimately help you to cross 1000 YouTube subscribers.
Final Words: What Happen When Reach 1000 Subscribers On YouTube?
So we have described all things that will happen when you reach 1000 subscribers on YouTube. After having 1000 YouTube subscribers you will get Opal club access and can apply for YPP. It's an opportunity to monetize your YouTube channel. Besides this, we have mentioned some tricks that will help you to reach 1000 YouTube subscribers. Keep working and follow these tips to get 1K subscribers for your YT channel at the earliest.
What Happens If You Don't Get 1000 Subscribers In The Last 12 Months?
If you didn't get more than 1000 subscribers with 4000 hours of watch time then you can't monetize your channel.
Do You Get A Play Button For 1000 Subscribers?
No there will be noYouTube play button will be given after getting 1K subscribers. Even YouTube does not offer any play button for the 10k subscribers channel.